Opening May 30, the DIALOGUE 2 Sculpture Exhibition in the Gherardesca Park of Hotel "Four Seasons" in Florence, where my works are exhibited.
The exhibition is open to the public until August 2018.
"DIALOGUE 2"
The lost paradise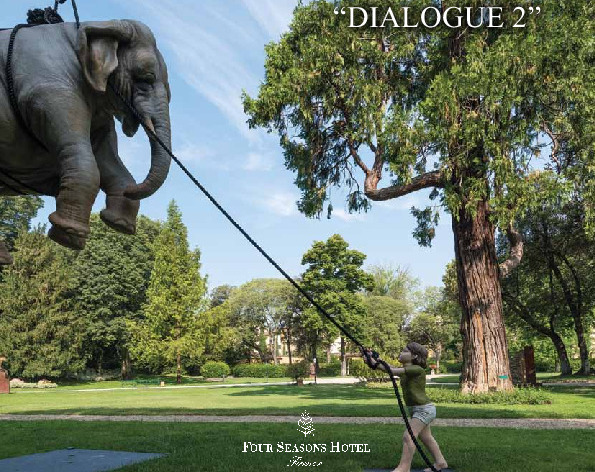 I rather feel like a fish out of water...
I make sculpture with ceramic: it is quite a different matter.
Ceramic needs a lot of knowledge, and technique reduces freedom in modelling.
This could seem a problem, but I don't think so actually; to me this is the ceramic appeal.
It seems to have its own life; ceramic changes the sculptor's willing because it modifies with fire and colours in kiln, often in unexpected ways.
I am very excited every time I open my kiln, even after many years, looking forward to know whether the form and surface express finally what I have meant to.
This wonderful location, with its great history, and the cooperation with other artists give me the opportunity to express what I mean to do with my work: give joy and poetry like nature does.
My fishes... creative people that skillfully move out of their original environments with audacity and leisure.
And my Margherita (trampled flowers): childish bride, when sensitiveness and fragility are violated and trampled, but she keeps her heart and emotions hidden and beautiful anyway.
Ceramic, in the town of Luca della Robbia, with his blue and white ceramic... what an honour!
Gioela Suardi